Clouds is a small publishing house involved in the publication of art books in Aotearoa New Zealand.
We are primarily interested in increasing the supply of interesting tomes and slimmer volumes both about and by artists.
We are Warren Olds and Gwynneth Porter. Clouds has offices in Christchurch
PUBLISHED TITLES
- - - - - - - - - - - - - - - - - - - - - - - -
Kate Newby, Incredible Feeling
Michael Stevenson & Jan Verwoert, Animal Spirits
Nova Paul, Form Next to Form Next to Form
(with Dent-De-Leone)
Layla Rudneva-Mackay, Green with Envy
Daniel Malone, Black Market Next To My Name,
co-published with Hopkinson Cundy
Louise Menzies, Pursuit of an Ideal
Volume 2., a document-extension of the Artspace project, co-published with Artspace
025 Jan Bryant and Leonhard Emmerling,
PX: Thoughts on Painting
026 Incredibly Hot Sex with Hideous People: the Book of the Zine
020 Julian Dashper, This is not writing,
co-published with Michael Lett
023 Pūrākau / Myths and Legends / Mitos y Leyendas
022 Sean Kerr, Bruce is in the garden; so someone is in the garden
017 Peter Robinson's Ack and other Abdications,
co-published with Artspace
018 Sriwhana Spong, Nijinsky,
co-published with Michael Lett
016 Bruce Russell Left-handed Blows: Writing on sound, 1993–2009
015 Daniel Knorr Pukapuka Tohunga Mahi Toi,
edition published with Artspace
014 Sean Kerr Pop, co-published with Michael Lett
013 Joseph Churchward, an extended biography on New Zealand type designer Joseph Churchward, co-published with Jan van Eyck Academie and Colophon
012 The Aotearoa Digital Arts Reader, co-published with Aotearoa Digital Arts
011 Dan Arps' Sun Seeker, co-published with The Physics Room, Neon Parc and Michael Lett
010 Paul Winstanley Threshold: Paintings 1989–2007,
co-published with Artspace
009 Volume 1., a document-extension of the Artspace project, co-published with Artspace
008 Teststrip: a history of an artist-run space (1992-1997)
007 Meg Cranston, Hot Pants in a Cold Cold World,
co-published with Artspace
006 Ava Seymour, The White House Years
005 Who's Afraid of the Big Bad Wolf?
004 Judy Darragh, Arts Society
003 Tessa Laird, Shards of the Jealous Potter
002 Sweet Punch: recent Nordic video
p001 Bruce Barber & Emma Bugden, Party Without Party
DISTRIBUTION TITLES
- - - - - - - - - - - - - - - - - - - - - - - -
All the Cunning Stunts, SO GAY!,
published by All the Cunning Stunts
Connect, published by Colophon
Ruth Buchanan Lying Freely, published by Jan van Eyck Acadamie and Casco
Louise Menzies & Warren Olds, Mushroom magazine poster
David Bennewith, Suggestions poster, Joseph Churchward's suggested designs for TV 2 logo
Speculation, NZ Venice Project 2007,
published by Artspace
UNDER DEVELOPMENT
- - - - - - - - - - - - - - - - - - - - - - - -
Peter Robinson: Modern Standards (essays by Francis Pound, Lauren Winstone and Luke Willis Thompson)
STOCKISTS
- - - - - - - - - - - - - - - - - - - - - - - -
Our publications are available from the following stockists:
Auckland Art Gallery, Auckland
Pah Homestead/TSB Bank Wallace Arts Centre, Auckland
Unity Books, Auckland
University Bookshop, Auckland
Tivoli, Waiheke Island
Wheelers Books, Auckland
Gordon Harris, Auckland, Hamilton, Wellington, Christchurch
Unity Books, Wellington
Enjoy Public Art Gallery, Wellington
Page and Blackmore Booksellers, Nelson

Please contact us if you are interested in becoming a stockist. We offer standard trade terms to retail partners.
INTERNATIONAL
- - - - - - - - - - - - - - - - - - - - - - - -
Our publications are distributed in the USA and Canada by RAM.
In Germany, Austria and Switzerland our publications are distributed by Vice Versa Vertrieb.
CONTACT
- - - - - - - - - - - -
PO Box 147-553
Ponsonby, Auckland 1144
Aotearoa New Zealand
+64 9 309 2604

UPDATES
- - - - - - - - - - - - - - - - - -
- - - - - - - - - - - - - - - - - -
- - - - - - - - - - - - - - - - - -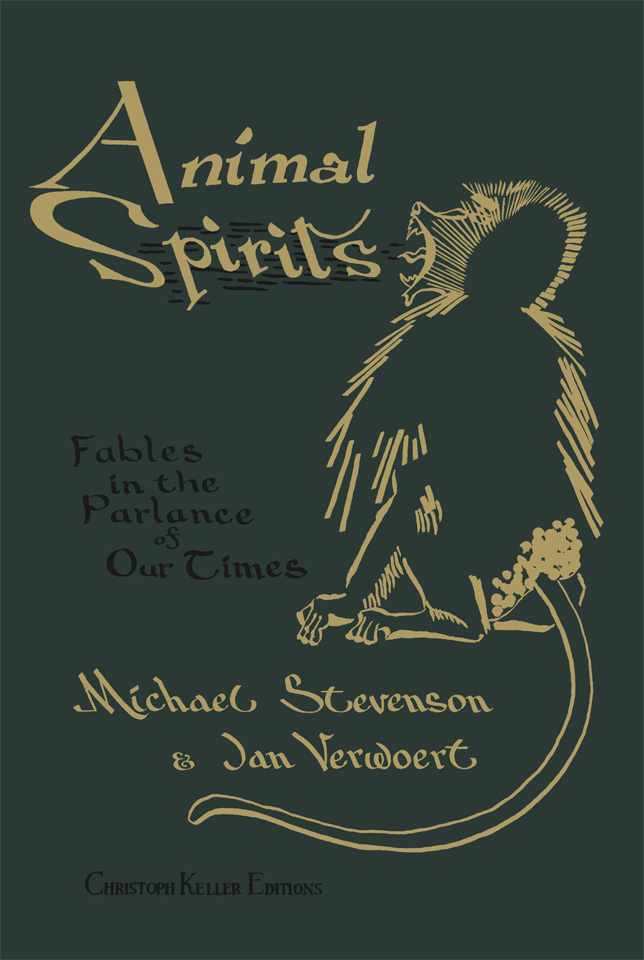 Michael Stevenson & Jan Verwoert
Animal Spirits: Fables in the Parlance of Our Times
In March 2008 the artist Michael Stevenson self-published a slender document entitled Fables to accompany his project Lender of Last Resort at the Kröller-Müller Museum in the Netherlands. It was a series of some nine texts in fable form, and each suggested further allegorical readings on a tableau the artist assembled in the museum. All were co-written by Stevenson and the art critic Jan Verwoert. The project itself was developed around the notion of the bilateral loan contract, both in the financial sense, but also regarding the museological. A loan is perhaps best defined as an inter-temporal transfer of value through time. It is probably the oldest financial instrument, dating at least from the birth of writing. Some of the first ever written documents describe loans, bad loans in fact (default being the real reason the record has remained). The tableau itself was constructed from objects related to the founding of the museum, a process that unfolded in and among the banking crisis of 1924. The publication was only available in the space itself and has long since been out of print.
Animal Spirits: Fables in the Parlance of Our Times is an artist's book by Michael Stevenson and Jan Verwoert which expands upon the themes of this earlier document and re-examines them more specifically in the light of our current times. It is based on a collaborative process, a process that resembles a game. Stevenson and Verwoert developed a working method in which plot structure remained open, a kind of partial exquisite corpse, i.e. text fragments passed back and forth without prior discussion as to any through line. These stories were co-illustrated in a similar way by the artist and Margaret Stevenson, his mother—the moral guide; the results were then made into a publication by Christoph Keller. A page at the end of the book announces the contributors thus: artist, mother, critic, and spirit maker.
The stories themselves take classic fable form and so most are concerned with arrangements between two parties or what could be called informal bilateral contracts. Galvanized and translated within parallel realities they produce a world in which the Beginning of the World has a voice and dares to question the might of the Bull. A world where the Shareholder sips wine at the dinner table with the Jackal, and the Lion, in a crisis, calls on his Hairdresser for council in matters of sovereign security. "Haircuts … Severe haircuts!"
The publication is part of the series of artists' projects edited by Christoph Keller and has been supported by Creative New Zealand.
Text by Michael Stevenson and Jan Verwoert
Illustrations by Michael Stevenson and Margaret Stevenson
Published by Clouds and Editions Christoph Keller
April 2013
ISBN: 978-0-9582981-6-2
Hardcover
144 pages
120 black/white images
English
Edition: 1200
Dimensions: 127 x 185 x 20mm
Weight: 268 gm
Individually shrinkwrapped
NZD$39.95
In stock.
Order online (via Paypal):

NZ$39.95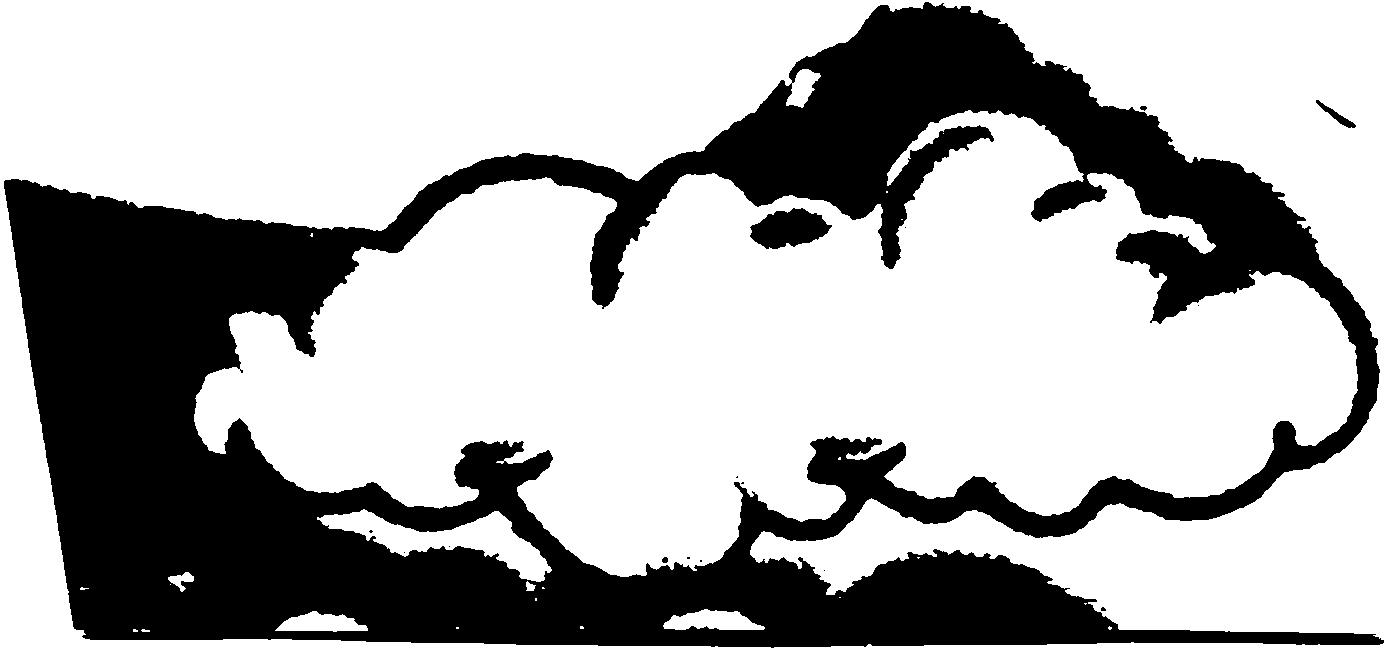 Clouds publishing
PO Box 68-187
Newton, Auckland 1145
New Zealand
+64 9 309 2604
clouds.co.nz